Dulce de Leche is delicious and perfect to make our breakfast sweeter, or to decorate and fill our birthday cakes. And we love it so much that there are millions of bites such as Alfajores that keep Dulce de Leche in the center of their and our hearts. But we also have Vauquita, a not-so- well kept secret of Argentinian people.
A Vauquita is a candy-like-bite that allows you to take with you Dulce de Leche in your pocket and to taste it anywhere without having to use a spoon. This magic happens because of the structure of a bite that Vauquita has. It is practically Dulce de Leche solidified!
The story of this candy started around the start of the 20th century, when a company called "Cauca" started selling Dulce de Leche in giant metallic barrels of 270kg (595.2 pounds). The owner of this company noticed that when the barrels where returned, they had sugary remnants that could be used if more Dulce de Leche was added to it. And that is how a semi-solid bite called "El Vasquito" was born.
Around the same time, a dairy company called "La Martona" that used to buy those same Dulce de Leche barrels to "Cauca", had a very similar idea. And started selling a bite that was a little bit more solid, under the name of "La Vaquita" which means little cow.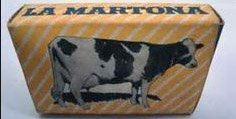 "Vauquita" as it is known nowadays had a long way coming. The two other famous and successful bites started to disappear slowly, falling behind the rival brands and different new chocolates that started flooding the market. So, it was around the 70s when the new owner of "Cauca" decided to rebrand the bite with a similar but new formula and name. That is how "Vauquita" was born.
After years and years, the company decided to sell the brand, wanting to focus specifically on their chocolates and different products. That is when the company called "La Dolce" bought it and rebranded it again as we know it today. From this only bite, the company developed a whole new tree of products, such as Alfajores, healthy Alfajores made with rice, a bigger presentation of the original Vauquita, and even more chocolates filled with the same delightful Dulce de Leche used to make the famous solid-bite.
Do you like Vauquita? Is it one of your favorite bites? If you haven't tried it yet or you started to crave it after reading this, remember you can order it from almost anywhere in the world at www.pampadirect.com
Recent Posts
As we mentioned before in some other posts of the blog, Argentine people have a thing for sweet tr …

Dulce de Leche is delicious and perfect to make our breakfast sweeter, or to decorate and fill our …

Mate is our best friend. It is always there while we study or work to give us a warm and uninteres …