Argentina beat Brazil 1-0 to win Copa América at the Maracaná Stadium in Río de Janeiro. The country won the title again last Saturday after 28 years (their last triumph had been in 1993). Here are the highlights of the tournament:
3 penalty kicks from Colombia caught by the sacred hands of goalkeeper Dibu Martínez, qualifying Argentina to the final.
A phrase -''Mirá que te como''- said by the same man, that will remain in history.
The decisive goal from hero Ángel Di María in minute 22 of the first half of the match.They say the third time's the charm, and that is how it went for Argentina. The country's national football team had already faced Brazil in a final two times before, back in 2004 and 2007. 2021 was the year to get it right, and so that happened: Argentina welcomed back its players and proudly received a fifteenth American Cup.

Leo Messi scored four goals throughout the continental football championship and achieved something Maradona never could: winning a Copa América. After the match ended, the team celebrated all together and Messi didn't hesitate to call his wife -Antonella Roccuzzo- and children to share his happiness with them.
STAFF:
Manager: Lionel Scalioni
Pitch assistants: Pablo Aimar, Walter Samuel, Roberto Ayala
Coach: Luis Martín
Goalkeeper coach: Martín Tocalli
Video analyst: Matías Manna
TEAM:
Forwards: Lionel Messi, Lautaro Martínez, Joaquín Correa, Julián Álvarez, Sergio Agüero
Midfielders: Leandro Paredes, Giovani Lo Celso, Exequiel Palacios, Nicolás González, Angel Di María, Guido Rodríguez, Rodrigo De Paul, Alejandro Gómez, Nicolás Domínguez, Ángel Correa
Defenders: Marcos Acuña, Cristian Romero, Gonzalo Montiel, Germán Pezzella, Nicolás Tagliafico, Nicolás Otamendi, Lisandro Martínez, Lucas Martínez Quarta
Goalkeepers: Damián Emiliano Martínez, Juan Musso, Franco Armani, Agustín Marchesín
STILL HAVEN'T GOT YOUR ARGENTINIAN FOOTBALL SHIRT?
Enter www.pampadirect.com and make sure to grab yours!
Pampa Direct LEGIT: What our clients say.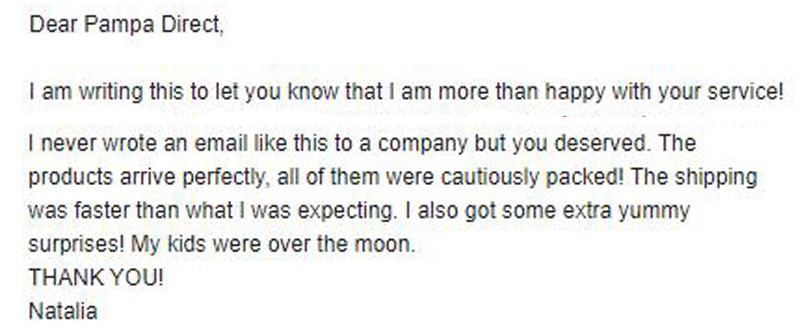 ''Dear Pampa Direct,
I am writing this to let you know that I am more than happy with your service!
I never wrote an email like this to a company but you deserved it. The products arrived perfectly, all of them were cautiously packed! The shipping was faster than I was expecting. I also got some extra yummy surprises! My kids were over the moon. THANK YOU!''
''Querido Pampa Direct,
Les escribo para contarles lo contenta que estoy con su servicio.
Nunca escribí un email como este, pero ustedes lo merecen. Los productos llegaron perfectamente ¡y todos muy bien empaquetados! El envío fue aún más rápido de lo que esperaba. Además, ¡recibí sorpresas súper ricas! Mis hijos estaban muy felices. ¡GRACIAS!''

''Súper fresco y riquísimo. En 20 años viviendo en Virginia, es la primera vez que consigo palitos salados. Gracias por mantenernos cerca de nuestras costumbres.''
''Fresh and delicious. In 20 years living in Virginia, it is the first time that I find cheese flavored palitos. Thank you for keeping us close to our traditions.''
Recent Posts
La yerba mate es una infusión tradicional de Argentina que, desde un principio, estuvo muy presente …

Yerba mate is a traditional Argentine infusion that first appeared in some South American countries …

Argentina beat Brazil 1-0 to win Copa América at the Maracaná Stadium in Río de Janeiro. The country …